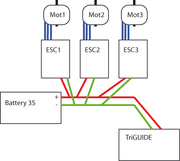 Each of the ESCs and the TriGUIDE PCB have to be connected to the battery. I recommend not using a power switch for safety reasons.
Use flexible wires with enough diameter. The ESC produce a very high current.
Try to connect the ESC as near to the LIPO as possible.