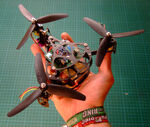 This very small tricopter by William is the second tricopter of the DLX series and it is very small. Willa created a new smaller controller board and redesigned the servo mechanism.
Motor shaft distance: 132 mm
Max. dimension: 259 mm
CFK + CFK tubes + Delrin (POM) hubs & spacers
Weight: 230g
Payload: ~100g
Lift-to-weight ratio: 3.1:1
Endurance: 11 minutes
Max thrust per motor: 237 g
Total current during hover: 4 A
Electronics
Edit
Controller: TriGUIDE mini v2, Atmega328p @ 16 MHz, 5V
Gyros: 3*ADXRS610
TX/RX: ACT DSL-4ST
Motors: Roxxy 2216-25
ESC: Turnigy Plush 6A with I²C->PWM converters
Propellers: 5x3 3-blade GWS
Servo: Bluebird BMS-306BB
Battery: 3S, 800 mAh
Modifications
Edit
Ad blocker interference detected!
Wikia is a free-to-use site that makes money from advertising. We have a modified experience for viewers using ad blockers

Wikia is not accessible if you've made further modifications. Remove the custom ad blocker rule(s) and the page will load as expected.