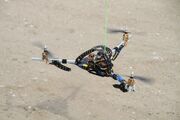 Vip3r is my second Tricopter after i made some flying experiences with Splint3r, my first tricopter.
With Vip3r I used this experiences and fixed mistakes I made in building splinter.
More under http://vip3rcopter.blogspot.com
Tricopter with rear Servo
1,4mm GRP (glass reinforced plastic) aluminium Arms
overall wheight: 900g
radius (center-motor): 22,5cm
Electronics
Edit
Controller: TRIGuide mini by W. Thielicke
Gyros: 3x Sparkfun: ADXR610
TX/RX: Robbe Futaba F-14
Motors: Turnigy TR C2830
ESC: Mystery Pentium 30A
Propellers: Maxxprod 045
Servo: Turnigy TGY-90s (Metal Gear Servo)
Battery: Rhino 2100mAh, Turnigy 2200mAh
Modifications
Edit
buzzer for low battery warning and receiver problems
automatic inflight XY-offset calibration
additional 12V output on Controller board
Ad blocker interference detected!
Wikia is a free-to-use site that makes money from advertising. We have a modified experience for viewers using ad blockers

Wikia is not accessible if you've made further modifications. Remove the custom ad blocker rule(s) and the page will load as expected.